Micke Grove Zoo has delighted families for 60 years, and it needs our support to remain an iconic Stockton staple.
"We're a strong group, and we work with what we have," Mallapur said. "But, we would be so happy for our community to help."
Nestled on 258 acres, located between Stockton and Lodi, Micke Grove Regional Park has delighted families since local philanthropists, William and Julie Micke, donated the land in 1938. The park features many attractions, including Micke Grove Zoo, the San Joaquin Historical Museum, the Japanese Garden, Fun Town, and beautiful picnic settings.
Micke Grove Zoo is home to more than 150 species. Zoo curator Avanti Mallapur said its focus is smaller-species conservation, specifically critically-endangered species. For example, they have consistently bred the golden-lion tamarins, an endangered species from the Brazilian rainforest. The zoo is also one of three in the United States to house black parrots.
For 50 years, the San Joaquin County Historical Museum has showcased our county's colorful history. Its collection spans more than 50,000 objects, including Native American artifacts, archival materials from Stockton founder Charles Weber, and more. It also includes four preserved buildings that provide a look into 1850s-era Stockton.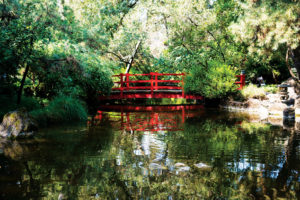 Home to 65 flowering cherry trees, the Japanese Garden was designed by Nagao Sakurai, a landscape architect from the Imperial Palace in Japan. Arguably its most recognized feature is the vibrant, red bridge, adorned by eight bronze lotus flower bud finials. It also features a large koi pond – fish known to live for more than 200 years.
With a unique vintage feel, Fun Town has been a local favorite for decades. The amusement park features ten rides, ranging from the Tilt-A-Whirl to the Fun Town Express, an Allen Herschell train. The park also has a concession stand with carnival-inspired treats.
According to the 2018-2019 Proposed San Joaquin County Budget, parks and recreation is funded by the General Fund (45 percent) and the Parks trust funds (55 percent). At this rate, the trust funds will be depleted by 2019-2020. Less reliance on these funds is crucial to sustaining Micke Grove.
Our community can help keep the park a family destination for generations to come.
SUPPORT OUR PARK
To donate to the zoo, visit 11793 N. Micke Grove Rd. in Lodi. To volunteer or donate items, please call (209) 331-2010. To donate to or volunteer for the museum, call (209) 953-3460.
To donate or volunteer at the garden, contact the Lodi Garden Club at (916) 580-8772.
Sources: Avanti Mallapur – (209) 400-1476, www.sjgov.org/WorkArea//DownloadAsset.aspx?id=28479