A look into what our veteran's are doing in the community.
Team Red, White,

and

Blue
Recent years have seen the emergence of several new veteran-based organizations that are dedicated to combating some of the unique obstacles that veterans face. One obstacle in particular is the isolation that many vets feel during what can be an extremely challenging adjustment back into civilian life—and it is an issue that local organization Team RWB has set out to tackle.
A national non-profit started in 2010, Team RWB strives to enrich the lives of America's veterans by connecting them to their community through physical and social activity. "Transitioning out of the military is a really tough thing to do," said Stockton Chapter Captain, Kelly Hunsucker. "There isn't a great playbook, so you have to find your own way."
To help this process, Team RWB holds ongoing social gatherings and physical events that include hikes, crossfit classes, bike rides, yoga, and weekly runs with Fleet Feet Sports in Lincoln Center. "We try to partner with members of the community to offer low or no-cost options for our members to really eliminate some of the barriers to getting out of the house, reconnecting to the community, and establishing those new relationships," said Kelly.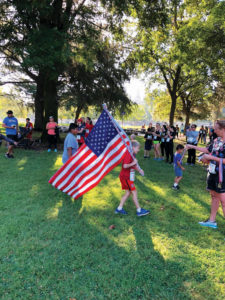 Kelly first became involved with Team RWB through her husband Josh, an Army veteran of several years. After his time in the military, Josh became a member of the Sacramento Team RWB Chapter. The involvement soon became a family affair, with their children taking part in events and Kelly now leading the Stockton Chapter, which opened two years ago. As a civilian and member of a veteran family, Kelly loves that Team RWB is inclusive of everyone within the community. "It's for civilians and veterans alike. Anybody can register and be a part of this group, which is really great, because that's how you establish those deeper-rooted community connections."
For more information on how you can support our local vets, get involved, and register for Team RWB (it's free!), visit teamrwb.com. And be sure to keep an eye out for all of the wonderful things Team RWB is doing in our community!
Veteran's Day
at
Village Barber
One step into Lincoln Center's Village Barbershop and owner Bobby Page, Sr.'s immense respect for our country's veterans is undeniable. The walls of the shop are laden with military photos of his customers and their loved ones, which Bobby frames and hangs himself. "My heart is with them. I love supporting our veterans," Bobby shared. For years, Bobby has supported those who've served in various ways, so it was no surprise when he launched the annual Veteran's Day Event in the Center
This year's Veteran's Day event, taking place in the parking lot outside of the barbershop, is expected to be spectacular. It will feature a flag ceremony led by Lincoln High School's JROTC, a Huey helicopter, a flyover, a raffle, a live band, and more! There will be delicious food courtesy of Midgley's Public House and commemorative t-shirts will be sold. All proceeds will go to the veteran's organizations involved in the event.
Come out Saturday, November 10, between 11:00 am – 3:00 pm, and show your support of our country's brave service men and women. This is one event you won't want to miss!
Hollywood

Hero
Army Veteran, Kevin Dobson, father of Vice President of Sims-Grupe Management Pat Dobson, has been a Stockton resident for a little over a year, and he has wasted no time making it his home. "The community is so diverse, and the people are so warm," said Dobson of why he loves his new city. He made the move to Stockton from Los Angeles, where he worked for many years as a professional actor. He's done over 25 movies, 5 television series, a few soap operas, and a number of plays. Perhaps you've heard of couple of the shows he was on — a popular 70s crime drama by the name of Kojak or even Knots Landing!
Before his life in Hollywood, Dobson served 8 years in the US Army during the Vietnam era, and it instilled in him a passion for our military that Dobson said will never dissipate. "Once you're in the military, you're always in, you're always veteran-minded." It is with this passion that Dobson has devoted much of his time and resources to the veteran community. He has been involved in countless events, and even toured the country visiting medical centers and raising awareness while serving as the chairman for the National Salute to Hospitalized Veterans. He now sits on the advisory board for DAV Charities of San Joaquin, an organization in which veterans volunteer their time to helping other veterans in need. "I'm really so proud to be involved with veteran issues," said Dobson.
With San Joaquin County being home to such a large veteran population, Dobson hopes to continually bring resources and opportunities to the area. He has arranged for the California State Commanders Veterans Council to hold one of their annual meetings in Stockton, and is involved with veteran organizations such as American Legion- Karl Ross, that have worked to bring the Traveling Vietnam Veterans Memorial Wall to Stockton for a stint of time last summer.
Dobson looks forward to his continued involvement in Stockton and hopes to encourage even more unity and volunteerism within the community, especially with veterans. As Dobson reminds us, "If you love your country, thank a vet."