Your store… for all occasions!
Best Wishes truly is the store for all occasions. Over the years, Lincoln Center shoppers have witnessed the evolution of Best Wishes, as it's grown to carry clothing, kitchen necessities, baby gifts, jewelry, and of course, its number one selling category: greeting cards.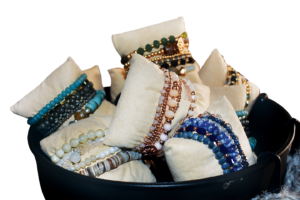 In an age where we're bombarded with texts and emails on a daily basis, there's still nothing quite like getting a handwritten card saying hello or sharing a sweet sentiment. Best Wishes continues to carry the largest supply of Hallmark cards, so you can find just the message you're looking for. Snail mail is not dead and gone, so pick up that pen and greeting card and send a note to your grandmother or friend out of state!
Best Wishes also prides themselves on being adaptable to customer wants and needs, and its newer categories such as clothing and jewelry are quickly becoming fan favorites. With brands like Simply Noelle, Charlie Paige, Mud Pie, Snoozies and more — the store and its employees are always looking for the latest and newest trends. Other brands they carry, such as Le Cruset, Department 56 villages, and Rosy Rings, have also long been staples.
The selection at Best Wishes has become quite extensive, really making it "Your Store for All Occasions." In addition to all of its wonderful products, Best Wishes, like all of the Lincoln Center shops, offers something that you won't find in any online store: exceptional customer service. Instant gratification can be achieved right here in Lincoln Center this holiday season, with a smile that can't be found behind a screen. So no matter what occasion you're buying for, stop by Best Wishes when thinking of what to get your host, mother, friend, or even significant other!