Dayana & Greg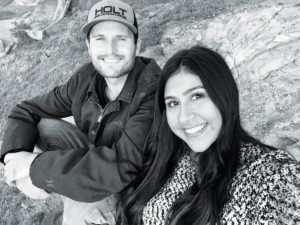 Dayana Campos and Greg Forbus are thrilled to announce their engagement on Christmas Day 2018 after dating for five years. Greg proposed to Dayana in front of his mom and sisters and surprised her by having her mom and other family and friends waiting to celebrate the engagement. Greg is the son of Kenny and Pam Forbus, and brother to Stephanie Forbus of SASS! Public Relations. Dayana is the daughter of Ana Campos and Daniel Echeverría. Greg is a farmer with Morada Produce and Dayana is currently getting her bachelor's degree in Social Work at Sacramento State, while working full time at Associa Northern California. Wedding planning has commenced and the two will be setting a date soon.
Lexi & Will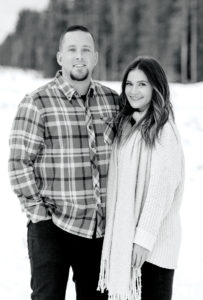 Lexi Abood and Will Burns are excited to announce their engagement on December 16, 2018 in Truckee, California. After five years of dating, the two knew they would eventually get married, but Will wanted to keep it a complete surprise. He had co-conspired with the photographer for their holiday photos to plan the most perfect, snowy proposal! Lexi is the daughter of John and Jamie Edwards, and Will is the son of Howard and Mahala Burns, both of Lodi. Lexi works for Port City Marketing, the design and website agency for Lincoln Center, and Will is a 3rd grade teacher at Team Charter in Stockton. The two are hopeful to get married the summer of 2020 in the Tahoe area.
Brittney & Nicholas
The engagement of Brittney Nelson, daughter of the late Ms. Stephanie Combs and Mr. Chris Nelson, to Nicholas Byerley, son of the late Mr. Marc Byerley and Mrs. Lisa Byerley is announced by the newly engaged couple. Brittney, head server and manager for almost 10 year's at Bud's Seafood Grille and Nicholas were engaged on Saturday, February 10, 2019, at High Steaks Steakhouse in Thunder Valley. The two met in the 7th grade at Capital Christian School but went to different high schools then reconnected nearly five years ago. They are parents to a beautiful 14-month-old, Brooklyn, who will make her appearance in their February 2020 wedding as the flower girl.
Tatiana & Chad
Mr. & Mrs. Mark Beilstein are pleased to announce the engagement of their daughter, Tatiana Beilstein, to Sergeant Chad Poortinga, son of Robert Poortinga and Jean Plett. Tatiana, granddaughter of Merle Norman Cosmetics Studio owner, Donna Vincent, is a graduate of California State University East Bay. Tatiana earned her Bachelor of Science degree in Criminal Justice and is putting it to good use as the Crime Scene Investigator for the Calaveras County Sheriff's Department. Sgt. Chad Poortinga has served at the Calaveras County Sheriff's Department for 15 years, where the two met. A late summer wedding in Paris, France is planned, with a honeymoon through Europe to follow.
Gia & Chandler
Mr. and Mrs. Alex Toccoli are thrilled to announce the engagement of their daughter Giavonna Toccoli to Chandler Jaques, son of Mario & Alison Jaques. Gia is a graduate of the University of Arizona, currently working at CBRE as their Client Services Coordinator. Chandler is a farmer for his family's company Jaques Brother's Family Farming. The two have been friends since preschool, but started dating in the summer of 2017, when Chandler admitted he had a crush on Gia — the rest is history. Chandler proposed to Gia while on vacation in Miami, Florida on October 30, 2018. The two are set to get married on November 23, 2019 in the Cathedral of the Annunciation, with a reception to follow at the Rivermill.
Emily & Joey
Emily Schneider, daughter of Eric and Stephanie Schneider, and Joey Blanchard, son of David and Kelly Blanchard (of Sims-Grupe Management) are pleased to announce their engagement on January 6, of this year. High School and College sweethearts, Emily and Joey both graduated from Tokay High School in 2014 and continued their education with a Bachelor of Science degree in Agricultural Business from Fresno State University, graduating in May of 2018. Emily works as a Tasting Room Assistant at Michael David Winery while Joey is a Farm Manager for ProPlant Transplanting in Lodi. Joey proposed to Emily on the beach in Tahoe during the middle of a snow storm, stealing her heart, one snow flake at a time. The two are planning to get married in the Fall of 2020.