It requires a strong vision and determination to impact a seemingly intractable problem like homelessness.
On any given night, more than half a million people are without permanent homes in the United States.  And Stockton is not immune.  So how does a community combat a growing problem of homelessness?  There are simply not enough government resources available, so cities rely upon non-profit agencies to help.  In turn, organizations like the Gospel Center Rescue Mission (GCRM) largely depend on charitable donations from individuals and businesses to help fund their programs — and look for creative ways to broaden community awareness.
For over 75 years the GCRM has served the Stockton and surrounding communities by providing food, shelter, clothing, addiction treatment and medical care for the homeless.  And since its inception, the GRMC has remained true to its core belief that each and every homeless person is an individual — not a statistic.  When a person walks through the doors at the Gospel Center they might be seeking temporary shelter or a hot meal, but what they get is an opportunity to change their life.
When Wayne Richardson took over the CEO position in 2016, he envisioned new ways to strengthen community relationships and broaden awareness of the GCRM through partnerships with corporations.  And Lincoln Center was a logical choice — a locally owned and operated business with strong community ties.  The partnership with Lincoln Center offers a unique opportunity to help the homeless a bit differently than traditional philanthropy. As Richardson explains,  "Instead of just a check being written we are joining forces to help work on the homelessness problem together.  It enables a branding of a non-profit like ourselves with a community leader like Lincoln Center and becomes a winning situation for us both."
President and CEO of Lincoln Center, Phil Johnson, is proud of the partnership and three-year commitment to partner with the agency.  "When we realized just how bad the homeless situation has gotten here, we wanted to make a commitment to help…and not just a one-time donation," says Johnson.  "We have the resources and the passion to make a positive social impact, and the fact that we can actually sponsor individuals on their path to leading productive lives is powerful."
Lincoln Center has pledged financial, promotional and hands-on support. Last month several volunteers from Lincoln Center rolled up their sleeves and painted at the Gospel Center as part of the "Love Stockton" day.  Another mutual benefit of the partnering, Richardson says, is that the branding includes all Lincoln Center merchants.  They can feel good about making a difference in the community, and their customers can embrace all of the various promotional activities to support a cause that affects all of the society.  This partnership is the first of its kind in over 300 Association of Gospel Rescue Missions, and Richardson praises Lincoln Center as the "George Washington" of cause-related marketing for homeless shelters and local business.
In his short time at GCRM Richardson has implemented new policies and procedures, upgraded and expanded facilities, and clearly laid out plans for the future. Partnering with Lincoln Center is another positive step for the Gospel Center and in the fight against homelessness, and Richardson is continuing to forge relationships with other area business leaders, organizations and agencies.  He wants to see all "ships rise with the tide" and join together — with the ultimate goal of restoring lives. To learn more about the Gospel Center Rescue Mission, visit their website.
---
This year, there are two different ways you can get involved with helping the Gospel Center Rescue Mission right here at Lincoln Center.
Lincoln Center Tote bags are here — just in time to kick-start your Holiday shopping! These handy burlap bags are available at the following locations for a suggested minimum donation of $5:
1. Best Wishes, 325 Lincoln Center
2. The Lincoln Center Marketing Office, 374 Lincoln Center
3. The Market at Market Tavern, 236 Lincoln Center
4. Pacific Compounding Pharmacy, 312 Lincoln Center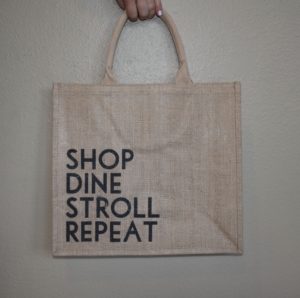 Lincoln Center will also be donating all proceeds from our Coat & Sock Drive starting November 12th through December 24th at the following stores:
1. American Hearing Aids
2. Artesian Natural Foods
3. Best Wishes
4. F & M Bank
5. Flair Boutique
6. Pacific Compounding Pharmacy
7. Theadora Boutique
8. The UPS Store
9. Select Physical Therapy
10. Venetian Pet Hospital
11. Village Cleaners