SHOP LOCAL all season long
We are incredibly lucky to have a vibrant and resilient small business community in Lincoln Center, with over 75 locally owned shops, restaurants, and services. But our local business owners have borne an incredible burden during this pandemic, trying to support their customers, communities, employees, and themselves. Buying local boosts your local economy. When you buy local, more of the money you spend stays in the community. We are all in this together, and one way to stand up for the businesses that are the backbones of our local economies is to shop local today and all season long! Take a look at some in-store specials below, THIS DAY ONLY.
Not only is this a day to start checking things off your holiday shopping list, it's also a special time to see Santa! He will be making another appearance in his vintage fire truck from 12PM – 3PM. Click the image for more Santa Sightings.
Speaking of shopping, check out our contest on how to win a $500 Lincoln Center gift card and a Mercedes-Benz for the weekend.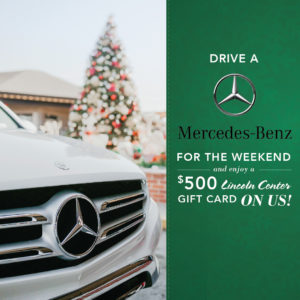 Store Specials
Special gift with every purchase
20% OFF select items
40% OFF your purchase – use code 79855
15% OFF all jewelry
6 meals for $40
5 Spa Treatments for $25
20% OFF all retail
$10 OFF any purchase over $150 – – $20 OFF any purchase over $350